For over 100 years, the Albers brand has represented a heritage of providing rich, natural flavor from premium corn. Its classic taste is driven by its rich Pacific Northwest heritage.
In the late 19th century, Bernhard Albers, a young German immigrant, worked for a Pacific Northwest wholesale grocer, saving money with the goal of going into business for himself. Convinced of the opportunities in Portland, Oregon, he persuaded his four brothers to join him. In 1895, with $15,000, the brothers and another partner formed a milling company. By 1899, the Albers brothers bought out their business associate and formed the Albers Bros. Milling Company, and Alber's Cornmeal was born.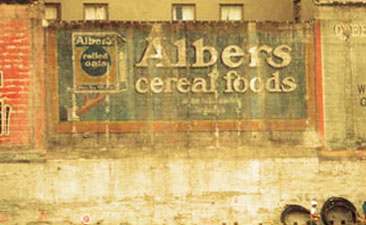 Over the next 30 years, the Albers Brother's Milling Company continued to thrive and grow absorbing other mills along the west coast, including Carnation Wheat and Carnation Oats. In 1929, the Carnation Milk Products Company, makers of Carnation Evaporated Milk, purchased the Alber's Brother's Milling Company uniting two family-owned west coast companies known for their dedication to producing products of the highest quality.
In 1984, Nestle purchased the Carnation Products Company and the Alber's brands of Cornmeal and Grits. Over one hundred years after its founding in the Pacific Northwest, Continental Mills, another family-owned, Seattle-based company, purchased the Alber's Brands from Nestle. With its roots returned to the Pacific Northwest, as part of the Continental Mills family of brands, Alber's will continue to provide the highest quality cornmeal and grits for generations to come.
Still recognizable on the Albers orange and blue cornmeal package is the fresh ear of corn. The Albers grits package remains familiar with its red and blue colors and traditional breakfast plate of grits and eggs.